Donnelle Yoshino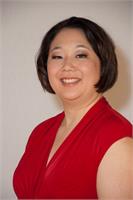 I started dancing many, many years ago and was invited in 2002 to teach at Spotlight and the Experimental College at UC Davis. Since that time I have been teaching ballroom, Latin, and swing dancing - though in the past, I have studied Japanese American folk dancing, Hawaiian dancing, and hip hop. I am also a choreographer and performing member of the award-winning Spirit in Motion Dance Company. I am the Music Coordinator at Spotlight, so come to me with any music requests!
I love languages and accents. I can speak Japanese conversationally as it was spoken all around me during childhood. In addition, I have taken classes in Japanese, Spanish, French, and American Sign Language.
My philosophy in teaching dance is based in having fun. Life is too short to stress about the little things. I include a lot of humor in my classes in order to help the students feel more comfortable and to help them relax. When you can laugh at your mistakes, it makes them less intimidating. I love hearing a class laugh - whether it is with me, near me, or at me. I love to see understanding suddenly appear in a student's eyes. It is the greatest reward in teaching anything, and I am always inspired to see students learn and have fun.
---
In the next two weeks, Donnelle Yoshino is teaching:
Jun 26 6:30pm Int/Adv Tango
Jul 3 6:30pm Int/Adv East Coast Swing